Novena Main Page
From Studio Kousagi Wiki
Novena is an open hardware and F/OSS-friendly computing platform.
If you are interested in buying one, we have a crowd campaign currently live at crowd supply.
Real-time updates and announcements can be tracked by following @novenakosagi on twitter.
Alpha evaluators: Please visit Using Novena PVT1 for more info.
Hardware


More photos: Novena PVT Hardware Photos
Mainboard
Features:
Freescale iMX6 CPU — same footprint can support dual-lite and quad versions:

Quad-core Cortex A9 CPU with NEON FPU @ 1.2 GHz
Vivante GC2000 OpenGL ES2.0 GPU, 200Mtri/s, 1Gpix/s (*)
NDA-free datasheet and programming manual
Internal memory:

Boot from microSD firmware
64-bit, DDR3-1066 SO-DIMM, upgradable to 4GB
SATA-II (3Gbps)
Internal ports & sensors:

mini PCI-express slot (for wifi, bluetooth, mobile data, etc.)
UIM slot for mPCIx mobile data cards
Dual-channel LVDS LCD connector with USB2.0 side-channel for a display-side camera
Resistive touchscreen controller (note: captouch displays typically come with an embedded controller)
1.1W, 8-ohm internal speaker connectors
2x USB2.0 internal connectors for keyboard and mouse/trackpad
Digital microphone (optional, not populated by default)
3-axis accelerometer
3x internal UART ports
External ports:

HDMI
SD card reader
headphone + mic port (compatible with most mobile phone headsets, supports sensing in-line cable buttons)
2x USB 2.0 ports, supporting high-current (1.5A) device charging
1Gbit ethernet
Fun features:

100 Mbit ethernet — dual Ethernet capability allows laptop to be used as an in-line packet filter or router
USB OTG — enables laptop to spoof/fuzz ethernet, serial, etc. over USB via gadget interface to other USB hosts
Utility serial EEPROM — for storing crash logs and other bits of handy data
Spartan-6 CSG324-packaged FPGA (PVT uses LX45: 43k logic cells, 6.8k slices, 54.5k ff, 401kb distributed RAM, 58 DSP48A, 2088kb block RAM) — has several interfaces to the CPU, including a 2Gbit/s (peak) RAM-like bus — for your bitcoin mining needs. Or whatever else you might want to toss in an FPGA.
High-speed I/O expansion header
Items marked with an asterisk (*) require a closed-source firmware blob, but the system is functional and bootable without the blob.
Keep an eye on bunnie's blog for updates and notes. You can also discuss at the forum.
Battery board


More photos: Novena PVT Hardware Photos
Battery management functions are implemented in an optional daughtercard.
Features:
SATA-style connector to route power and control signals to the main board
Works with battery packs used by most RC enthusiasts

2S1P to 4S1P
Cheap and easy to buy
User can "pick their capacity" -- the battery life isn't fixed by design, it's up to the user

Classic Molex disk connector for battery connector

Requires adapter cable to the RC battery pack

Fast-charge capability

Rates in excess of 4A
Charge a 45Wh 3S1P pack in ~1 hour
Active cell balancing

Learns your battery pack

Over a few charge/discharge cycles, the controller determines the actual capacity of the pack
Tracks capacity degradation over time
Optimizes charging to reduce wear and tear on packs
Computes an accurate estimate of remaining battery capacity

Statistics reporting

SMBus standard power interface
Stats such as remaining capacity, charging rate, current discharge rate, voltage, etc. available

STM32 master controller

Runs ChibiOS
Enables autonomous operation when CPU board is powered off
Reprogrammable by host CPU, but requires a physical button press to enable programming so as to prevent surreptitious malware insertion
Has DAC output to drive an analog panel meter
eDP Adapter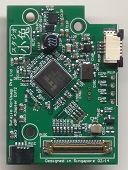 More photos: Novena PVT Hardware Photos
Novena natively supports a dual-channel LVDS interface for LCDs. However, today's LCD panels are migrating to an eDP-style interface. To bridge this gap, there is the eDP adapter board.
Features:
IT6251 chipset
DisplayPort 1.1a Tx supporting HBR (2.7Gbps) and RBR (1.62 Gbps)
Input pixel rate up to 165MHz
24-bit color
Breakouts for touchscreen and USB
On-board switching regulators for low power operation
Made to work with Chimei Innolux N133HSE

13.3" diagonal
1920x1080, 166 ppi; 1.3W typ cell power, white pattern
IPS, 180 degree viewing angle in V/H
350 cd/m2 brightness (3.5W typ backlight power @ max brightness)
700:1 typical contrast ratio
14ms Tr, 11ms Tf response times
Note to viewers: total power is cell power + backlight power. Cell power is just the power required to flip the LCD elements, not inclusive of backlight.
In addition, there is a custom flex cable that goes between the Novena mainboard and the eDP adapter. It's designed to handle the power requirements of the LCD, as well as manage signal integrity at high data rates.
Hardware Design Source
Please see Novena PVT Design Source for electronic CAD.
Mechanical CAD files are forthcoming, once the design is refined and we've had a chance to annotate and format the designs for distribution.
Update: some people apparently just can't wait to get their hands on the mech source, so here it is (110MiB), with the very strong disclaimer that it's disorganized, not final, and you'll need some expertise to even browse the files. Our aim is to clean this up into a nicely packaged form but for those who just can't wait this is what we can provide. Likewise, we offer no support on this interim CAD.
Also, if you're an experienced machinist you can skip this bit, but for people who think that things in mechanical CAD is as simple as dropping CAD into a 3D printer and stuff comes out that works, you are about to be sorely disappointed. Even in production, small tweaks happen relative to the CAD, and at prototype phase, the CAD is more of a guideline to the machinist than a strict design. We are working with a team of mechanical designers and machinists to roll all of their art, know-how and DFM feedback into our source CAD, which we will share once it is done. However, this process takes a while. In other words, don't expect to be able to take the source link above and simply 3D print it and get a workable case like the ones we're carrying around now.
Firmware
Bootloader
u-boot is the current factory-default bootloader. Please see U-boot PVT Notes.
Linux OS
Kernel
Novena uses the stock Linux kernel with few patches. Any patches that might be useful to other projects (such as PCIe or ES8328 audio codec) are being submitted upstream.
The 2D/3D/Vector unit requires its own driver, which is available in source form on Github. Different userspace drivers require different kernel modules, so be sure to check out the branch that corresponds with your driver version.
The git repo for the cutting edge linux that we're working on is at:
https://github.com/xobs/novena-linux

Make sure you switch to the desired branch, e.g. 3.14-rc4 etc.
Those doing GPIO hacking with linux may be interested in the Definitive GPIO guide for the i.MX6.
Distro
Debian is the factory-default distribution, but of course anyone can put their favorite distro on the system.
Quickstart gide on building and initializing a bootable debian image:
For more in-depth discussions on Debian and other notes, please refer to these pages:
Dual Core Variant
Novena's base design works with the i.MX6DL. However, it does require some firmware changes. Notably, the bootloader is significantly different because there is much less SRAM to run from for setting things up. Also, the pinmuxes are different, so that issue has to be addressed in the device tree. See Novena/Dual Core for notes on this configuration.
Legacy
For those who want to cross-compile an OE-based image, please see building novena firmware
Software
Once you get Novena running, there are a few tweaks that you might have to make to the software to get it to run. Not all software likes running on Linux on anything other than x86/x64. Others just require software fixes to work around kernel bugs that we haven't fixed yet.
Please see Novena Software for more information.
Software projects
While Novena tries to be standard, it nevertheless has some platform-specific software projects that are necessary to take advantage of its unique hardware.
novena-eeprom: Command-line editor for the onboard EEPROM
novena-usb-hub: Manage the power status of each of the onboard USB hub's ports
Future software projects
novena-eeprom-gui: Graphical viewer/editor to inspect the onboard EEPROM
senoko-manager: Graphical manager for Senoko battery board
senoko-programmer: Firmware updater for Senoko battery board
More Pages
Getting started
Hardware Tech notes
Because I can't remember all those damn command lines
Archives