What is NeTV
Looking to develop on NeTV? See NeTV Main Page!
See [here [1]] for a movie describing NeTV's basic features.
NeTV is designed to work as an add-on to video sources like Boxee, Revue, Roku, PS3, Xbox360, DVR, DVD, set top boxes, etc. It sits between these devices and the TV. NeTV's key benefit is adding push delivery of personalized internet news on top of all platforms in a non-intrusive and always-on manner. By being platform agnostic, NeTV enables you to add apps to any system configuration without having to throw away your existing hardware investments.
General Features and Benefits
Turn any vanilla HDTV into a smart TV
Plugs in-line between any video source and the TV
Overlays smart TV content as the video passes through NeTV
Exceptional value proposition; users can upgrade normal TVs to smart TVs without having to buy a new TV
Configure and manage user interface via wifi

Smartphones can function as a multi-touch, dynamic user interface device.
IR remote control also included for use without a smartphone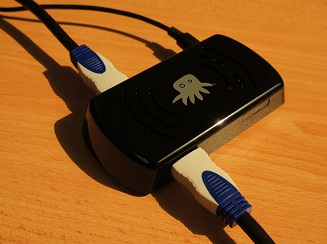 Smart Event Display
NeTV creates a personalized internet news crawler just for you:

Twitter, facebook, sports scores, and other internet news updates
Android users enjoy seamless SMS and email updates on their news banner

Event display UI is non-intrusive and passive, so it can be left on all the time
View web pages on your TV
Webkit browser embedded in device
Use your smartphone as a remote control for selecting the web page to view
Photo Sharing from Android
Seamless integration into Android photo applications
Click and send photos to your TV so friends and family can enjoy them on a large screen
iOS support is coming soon
Hardware Specs
HD-resolution (480p, 720p & 1080p24 "True Cinema") support
Compatible with most HD video sources
800 MHz Marvell CPU
Power via micro USB
802.11g wifi
Easy to use 7-button IR remote