Novena PVT Design Source
Please see Novena PVT Components for a list of components and datasheet links.
Mainboard

PVT1
PVT2
Battery board

DVT
PVT
eDP board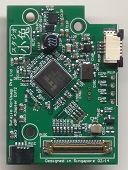 LVDS flex PCB

Romulator PCB
Front Panel PCB
GPBB PVT1
Senoko Passthrough PVT1
KiCAD Ports
USE AT YOUR OWN RISK -- with the help of Dangerous Prototypes' KiCAD service desk, we had some of our designs translated to KiCAD format to allow people easier access to design source. However, we have not tested or verified any of the manual translations.
http://bunniefoo.com/novena/novena-accessories-kicad.zip
Also, please check out this forum thread about a new automated Altium-to-KiCAD translator that is currently a work in progress.
Mechanical CAD
Please see Novena Mechanical CAD